Barbecue Road Trip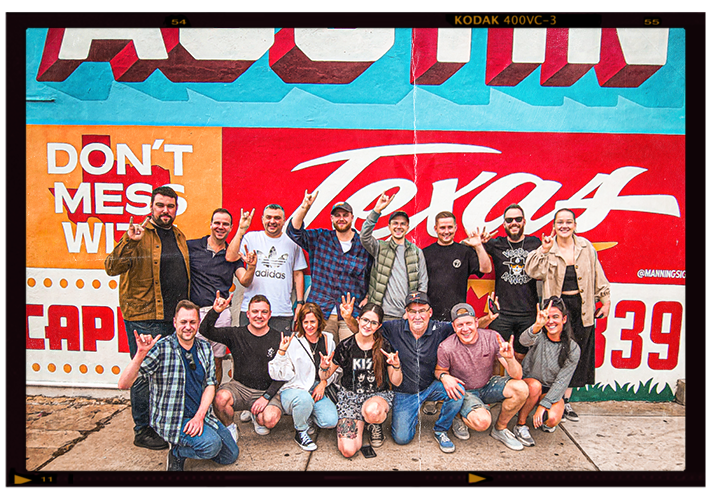 The Return of the Barbecue Road Trip...

November 2022 saw the return of our Southern States barbecue road trip. This time we headed back to our spiritual BBQ home of Texas, and took in Dallas, Austin & Lockhart. 18 team, 4 days, countless BBQ joints & even more margaritas!
Our goal was simple…to find some new exciting dishes, check out some of our favourite places, explore new ones & check-in with some old friends, legendary pitmasters & chefs we've met over the years.  And, to soak up the tastes, smells, sights, sounds & good old Southern Hospitality!
---
The Advance Party...
Neil & Steve kicked off the barbecue road trip & headed to Dallas (Steve's first time behind the wheel on the highways & byways). Their mission was to explore some of the new & quirky design ideas in restaurants & bars. From Chefs bars to back-bars, party tables & some of the coolest outside areas we have ever seen….
And, of course brisket – the jelly wobble like no own.
 Austin Bound for our Barbecue Road Trip...
Plans were put in place, ideas, hopes & expectations shared before grabbing a few hours sleep at Manchester Airport. It was then time to embark upon an epic 13hr trip. (The journey wasn't without dramas – from damaged passports, to missing ESTAs & the bizarre decision to travel in Crocs by Tom).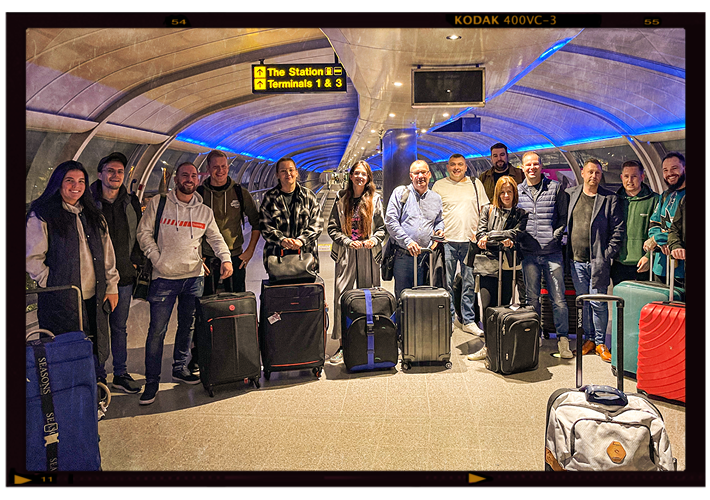 Our Spiritual Home!
We made it… to the quirky city of Austin, home to 20 million visitors a year. The "live music capital of the world" (it even has more music venues than Nashville). A place that boasts the largest urban bat population, (about 1.5 million Mexican free-tailed bats migrate to Austin & emerge from under the Congress Avenue Bridge every night). One of the sunniest cities in America, with an average of 300 days of sunshine), and quite possibly our favourite fact the 2002 "Keep Austin Weird" movement, started by a radio DJ. That explains a lot about the people & wonderful culture
The barbecue road trip experience started from the moment we jumped in the taxis. Driving from the airport to East Austin we saw for the first time the eclectic mix of houses, the picturesque porches & the colonial homes. Our hotel was on 6th Street across the road from Suerte, and after a quick change we headed to Suerte for dinner
Texas Tacos!
First experience of dining at Suerte was different from everywhere else we experienced. A modern & contemporary restaurant, with traditional Mexican cooking techniques but using local Texas ingredients. After seeing Suerte on Netflix's "Someone Feed Phil" we couldn't wait and we weren't disappointed. We fell in love with their Suadero Tacos – confit wagyu brisket, black magic oil, avocado crudo & onion y cilantro. So much so that our chefs have taken the inspiration to create Tennessee Brisket Tacos for our new menu. https://www.suerteatx.com/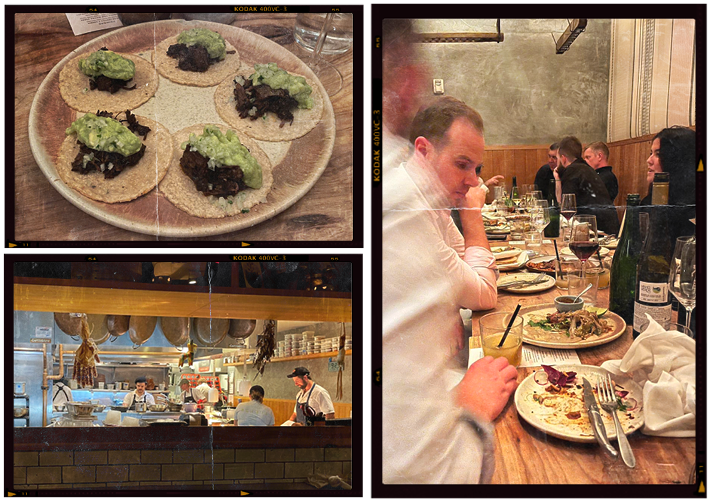 Touring Texas...
A few late-night drinks (Margaritas of course, be sure to check out our new Tommy's margaritas!) we called it a night so we were ready for day 1 of the BBQ road trip. The day started with a quick tour of some famous landmarks. First stop The Texan State Capitol, an impressive building & only second in size to the National Capitol in Washington. After a few pictures we couldn't resist calling in at the Darrell K Royal Memorial Stadium. We love our NFL so watching the Texas Longhorns was top of the list for Saturday night. We stocked up in the stadium shop, with tshirts, caps, & pennants, plus flags & memorabilia to bring back for the restaurants. https://texassports.com/sports/football
Reunited with Old Friends...
Time for the barbecue road trip tour to begin. First stop Stiles Switch. We stepped out the van & were greeted by the familiar smell of burning wood. We lined up & loaded our trays with smoked meats – brisket, pulled pork, pork ribs, oak smoked wings, pinto beans & one of our favourites Texas Frito Pie. Brisket chilli con carne, fritos, pinto beans, cheese, sour cream & pickled onion.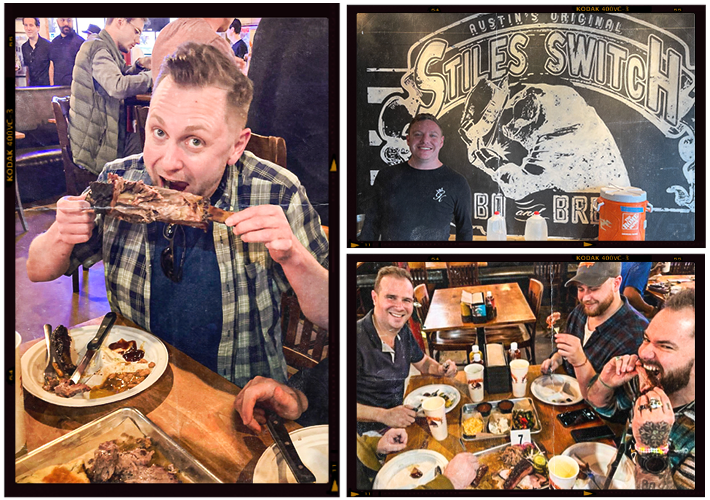 The incredible Lance Kirkpatrick appeared & our visit reached the next level. Lance is a legendary pitmaster, he's passionate, honest & we were privileged to meet him. He took us on a smoker tour where the impressive scale & passion of the pit team shone through. The old speaker blaring out country music with packs of Malboro next to it. The lockers with age worn aprons draped over it. The white board scribbled on, meaning something only to Lance and his team. Thank you Lance – we loved it. It was inspiring especially for our Chefs Jenna, Tony & Sam. Check out Stiles Switch here: http://www.stilesswitchbbq.com.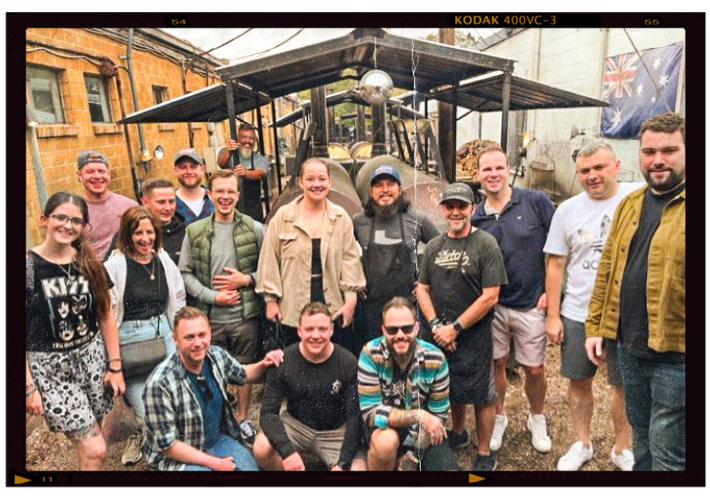 Rudy's & Salt Lick...
Back in the van & off to Rudy's. The pits these guys use are 100% wood fired with oak. They're slower burning, so it's all about the time & oak. And, their dry spice is added to every plate. The red checked table clothes, wooden condiment boxes, signwriting on the walls, corrugated iron & iconic statement "Real People Eat Meat" greeted us. We loaded up the trays  - sausage links, brisket, pulled pork, cream corn, potato salad – we had it all.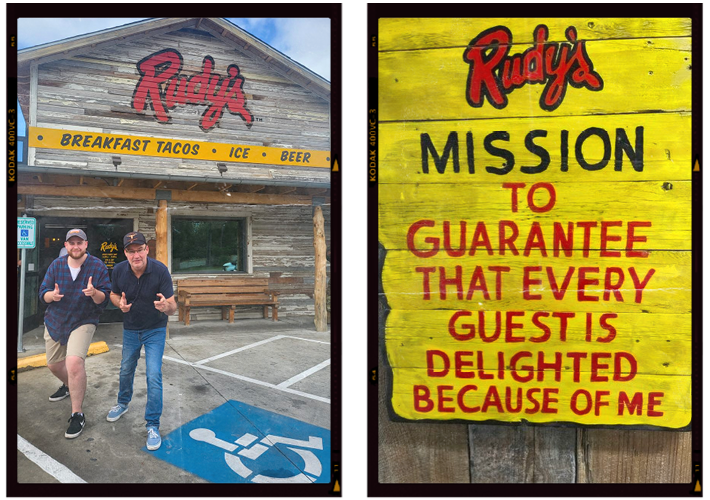 We then headed out of town to Salt Lick, Driftwood. The story of Salt Lick could be a movie (more on that here - https://saltlickbbq.com/about/).  Bettie (the great-grandmother of the current owner Scott Roberts) barbecued her meat by searing it & then slow cooking over coals – the same method the family use today.
Greeted by the iconic open pit where they have smoked their meats since 1967 & despite the copious amount of BBQ we had already enjoyed we were ready to go again. And we weren't disappointed (we just wished we had timed it with when they had live music on). We would have been there for the night.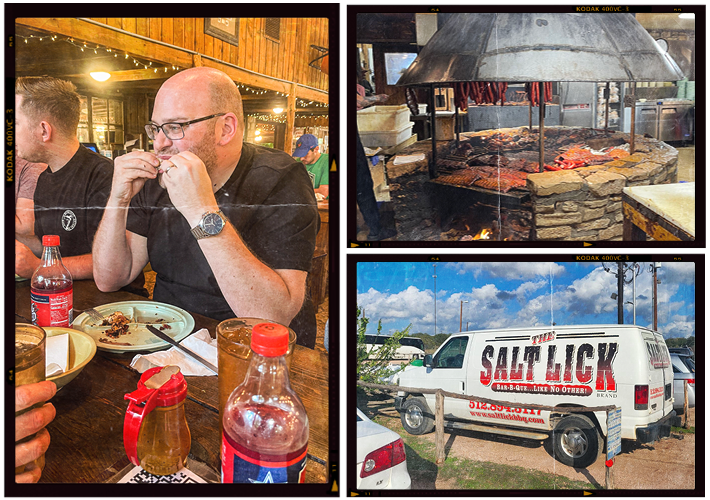 Iconic Murals Spotted on our Barbecue Road Trip...
Austin's buildings & walls are canvases, but they're anything but blank. The murals & street art are the inspiration behind the artwork & sign writing in our restaurants. Our cameras & phones are full of a wealth of colour & creativity that we stumbled upon. If you're ever in Hickory's Shrewsbury ask Alix all about the murals as she was in awe. So, we couldn't resist a couple of stop offs at the historic 6th Street mural & Greetings from Austin. Cue team pictures at each! Top tip from a local, if you're having your picture taken at Greetings from Austin. stand between the painted capitol building and the word "Capitol" to capture the entire image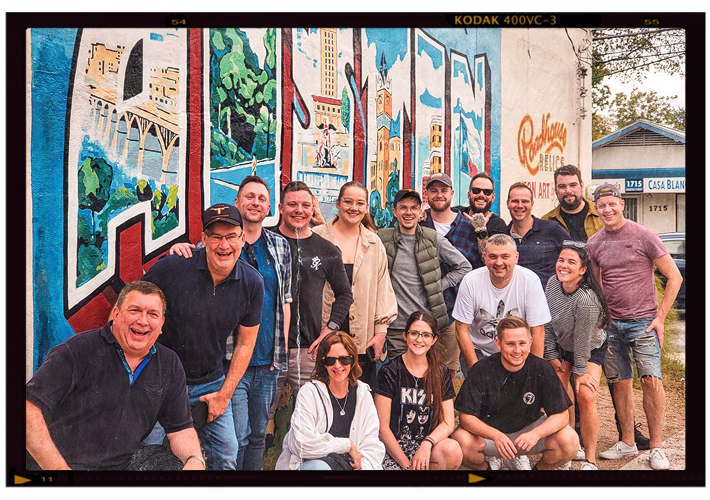 Meanwhile...
Despite not being able to eat another mouthful, we'd heard great things about the Distant Relatives food truck, so onwards with the barbecue road trip. The guys who run Distant Relatives have built up quite a following & it was on the must check out list. Inspired by the flavours & textures of their African heritage, we were looking forward to the hardwood smoke & heightened spice in their meats. It wasn't to be. They had completely sold out.
But what a spot we were at….Meanwhile Brewery.  https://www.meanwhilebeer.com/taproom.
A taproom, a food truck park, the ultimate place to drop in & hangout.A  Benches & tables under the canopy of trees, a kids area created from reclaimed pipes & fallen trees. A soccer field & the coolest outdoor stage we've seen. We soaked it in, we sipped the beer & we got loads of ideas for our own outside areas.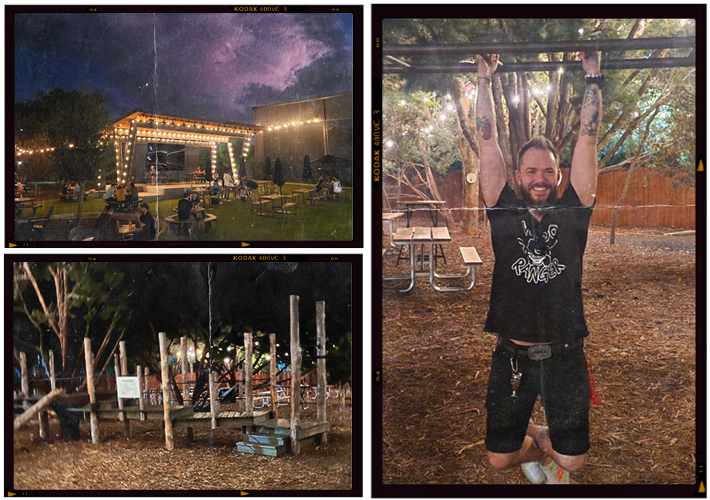 Rainey Street...
After a very quick change we jumped back in the van to Rainey Street. Lined with renovated houses that have been turned into bungalow bars we were ready for a night out. Clive's stood out (& turned out to be Jonathan's favourite bar)– three stories, giant screens & a roof top bar. We headed straight to the roof top, took in the sights & enjoyed one of many margaritas.
We moved from bar to bar, trying new drinks, making notes, chatting to bartenders & meeting the locals. Half Step Bar was a favourite for James with a spicy margarita & Lucille's was everything we imagined sippin' bourbons on a porch would be like.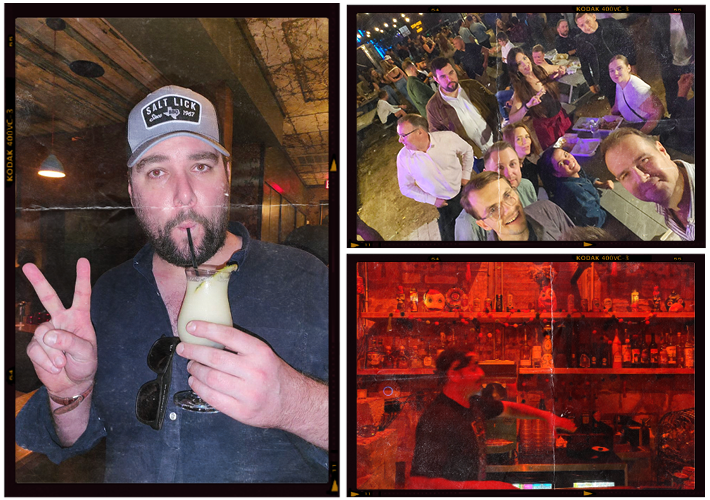 You would have thought we'd had enough to eat but the only way to end a night on Rainey Street is at the Food Truck lot https://www.raineystreetrestaurants.com/food-trucks/. JT claims Spicy Boys' SF Chicken burger is the best he's ever had.
Our carriages home were the highly entertaining Karaoke Fun Cabs. We apologise Austin for our out of tune "singing" to Journey!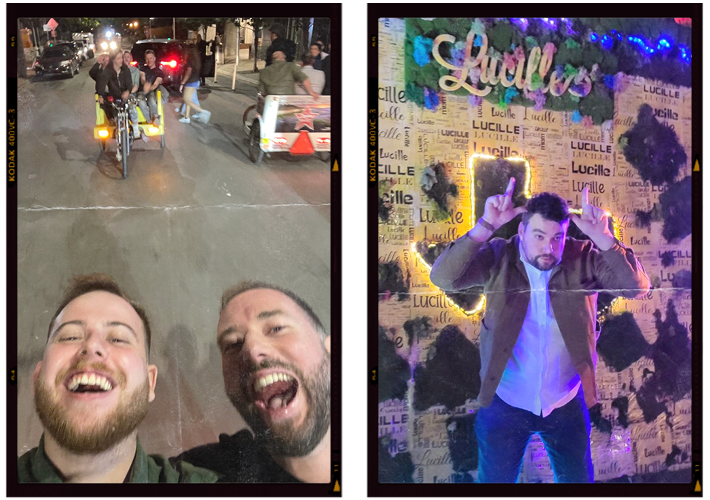 Day Two of the Barbecue Road Trip...
Another day on the barbecue road trip...First stop Blacks, Lockhart…We were hit by the iconic sign, a sign that's framed on walls in our restaurants. A place we felt we had been to from all the pictures we had seen. An institution of a BBQ joint. With humble beginnings the Blacks family are BBQ pioneers. We weren't disappointed. https://www.blacksbbq.com/locations/lockhart/menu
We arrived early & loaded up on everything – more brisket, giant beef ribs, baby back ribs & their sausage links. In every joint pudding was simple & similar – banana pudding, but here we enjoyed peach cobbler & washed it all down with iced-tea (so many flavours everywhere you go). When we left, it can't have been later than midday yet the queue was round the block.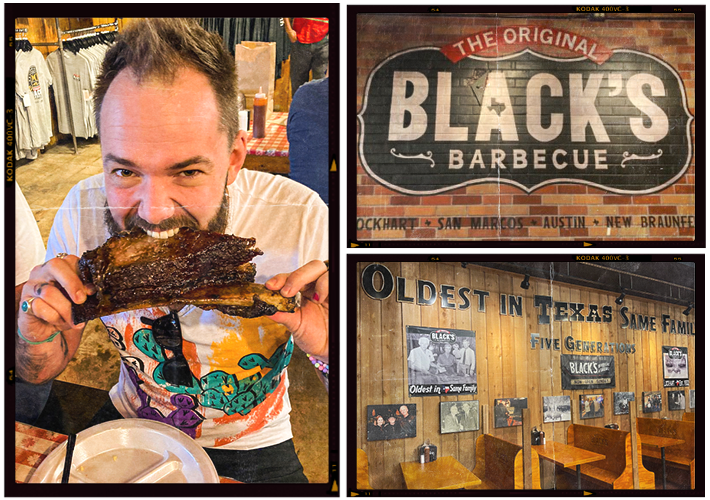 Bring the Smoke...
Roberto our driver & absolute star, was waiting for us in the van & the second stop of the day was Kreuz. Over a century old & a Lockhart legend. The smoker room is the size of a sports hall. The scents, the smoke, the fire, the ribs will beforever etched in our memory.As we gathered round the smoker Dwight spotted the legendary pitmaster Roy Perez. For four years Roy Perez has been an iconic picture Dwight has passed every single day in Hickory's Worcester. Seeing him on the far side of the room he was absolutely star struck. This quite legendary, lifelong pit master in touching distance! https://www.kreuzmarket.com/
Meeting & talking with Roy, his humility, his honesty, his knowledge was an experience we & especially Dwight will never forget!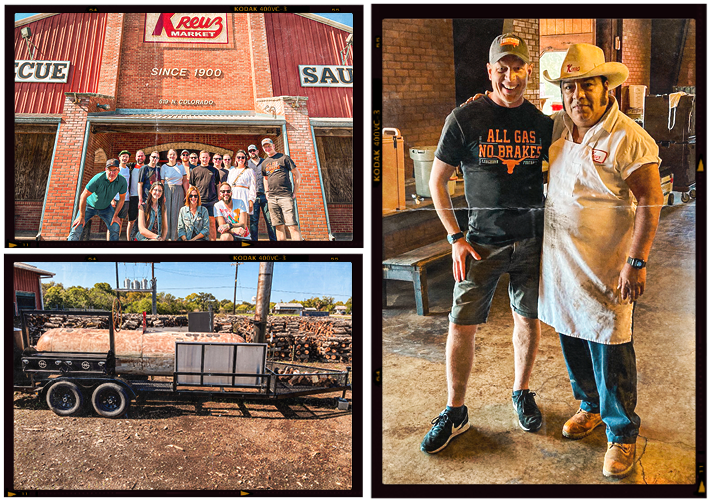 BBQ Fest...
In less than 36 hours since we landed in Austin we had experienced so much on our BBQ road trip but going to the Texas Monthly BBQ Fest, BBQ World's Fair was still to come. As Roberto pulled up at City Park, Lockhart it felt like we were on the set of Back To the Future. And, the whole town was there to party! There was live music, the most incredible smokers & 46 barbecue joints from across Texas.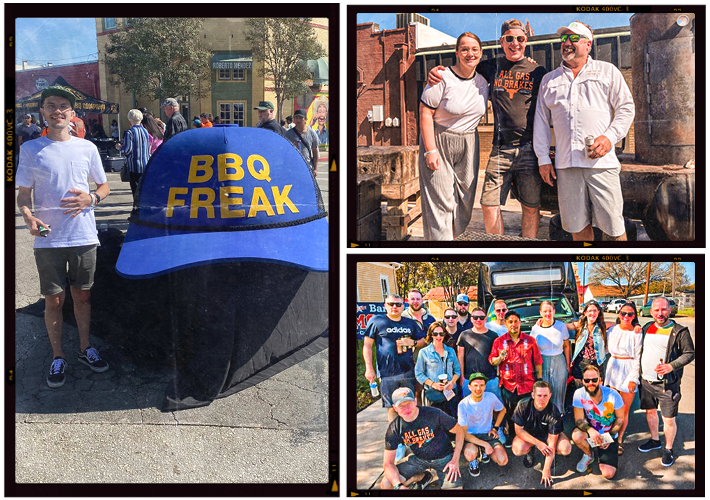 Maps in hand, we all set off to explore the Fest. There were live demos at the Live Fire Lane & a meat market with so much to taste – we met an incredible family who were all manning their stall. Tony & Cally introduced us to their family & we stocked up on their Low and Slow hickory smoked bbq potato chips. https://lowandslow.com/products/hickory-smoked-bbq-potato-chips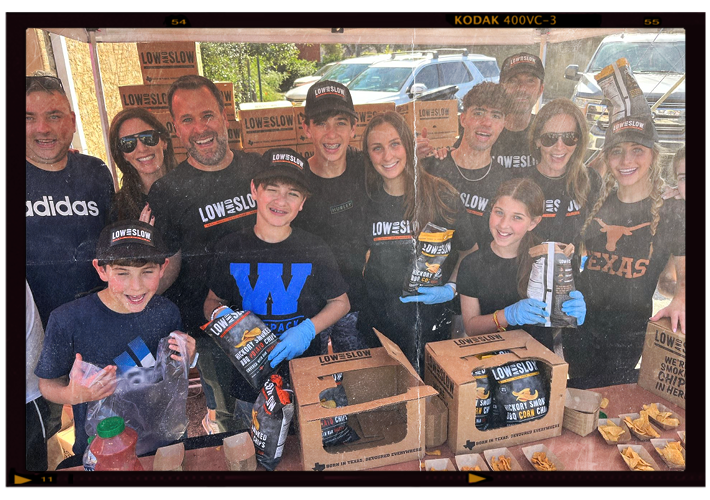 No Secrets...
We got to experience creative flavours from a line-up of joints from all corners of Texas, we listened, we learnt, we saw new techniques - everyone was so open. There were no secrets, no bias, no undertones. Everyone was so happy to talk,  to show & to let us taste what they were doing. It was a real pride thing. A lifelong passion that was to be shared not hidden.
Longhorns...
It was another quick change for the evening before we headed to a nearby bar to watch the Longhorns. We tried to look the part, and it wasn't hard, everyone in Austin had their Longhorn colours on. We soaked it all in & maybe we brought them luck. Kansas State Wildcats 27 v 34 Texas Longhorns. After the game & off the beaten track we found a bar like no other – the Grackle. It was dark, it was dingy, it had a pool table &  Old Fashioned on-tap! The Grackle – we loved you (especially Tom & Toby).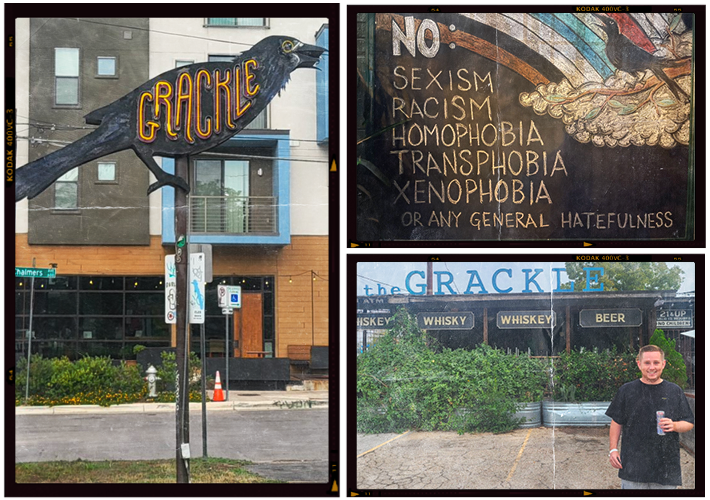 The Final Brunch...
There was a final few hours to explore the streets before our final meal. Stubbs Bar-B-Q most definitely did the best "last supper" we could have.  Brisket, brunch, Bloody Mary's & music downtown. We were booked in for their Gospel Brunch. The performance & love that came from the group singing was so beautiful, you could feel the energy coursing through the building. There was nothing but good, pure vibes & we absolutely loved it.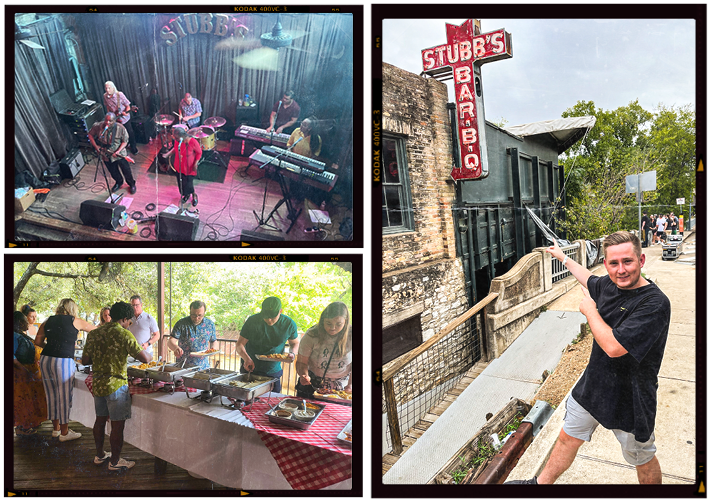 Great BBQ, great Bloody Mary's (we love them so much they're on the menu for brunch!) and the kind of atmosphere that makes going out memorable. It was the best & most fitting ending to a trip of a lifetime.
Austin Barbecue Road Trip…Thank You!
You inspired us. You taught us so much. You humbled us. And we can't wait to share what we learnt & bring as much as we can to Hickory's. And, if all that talk of BBQ has made you hungry
Where will we go next?
The Barbecue Road Trip will continue later this year...