Kids at Hickory's
To us our VIK'S are just that… VERY IMPORTANT KIDS!
Here at Hickory's, we believe that when the kids are entertained, grown up's are really given the chance to soak up the Southern hospitality our teams deliver! Our restaurants are kitted out with everything needed to keep little ones smilin' from ear to ear, complete with a separate menu to feed even the fussiest family members!
GREAT FOOD
BRUNCH, LUNCH, DINNER OR JUST A TREAT!
Our specially created kid's menu has been developed by an in-house team of Mums & Dads to contain just the right balance of treats, healthy options and full-on flavour.
Packed with dishes and drinks to suit smaller appetites, dishes include our classic mac 'n' cheese, burgers and cod bites, as well as perfectly portioned American Cooked Breakfasts & fluffy Pancake Stacks!
Smaller versions of all of our iconic shakes are available too & are always a hit with the kids! Whether they go for the classic 'American Pie', the sweet 'Crazy Carnival' or our 'Big Bad Biscoff', there's a blend to fit every individual.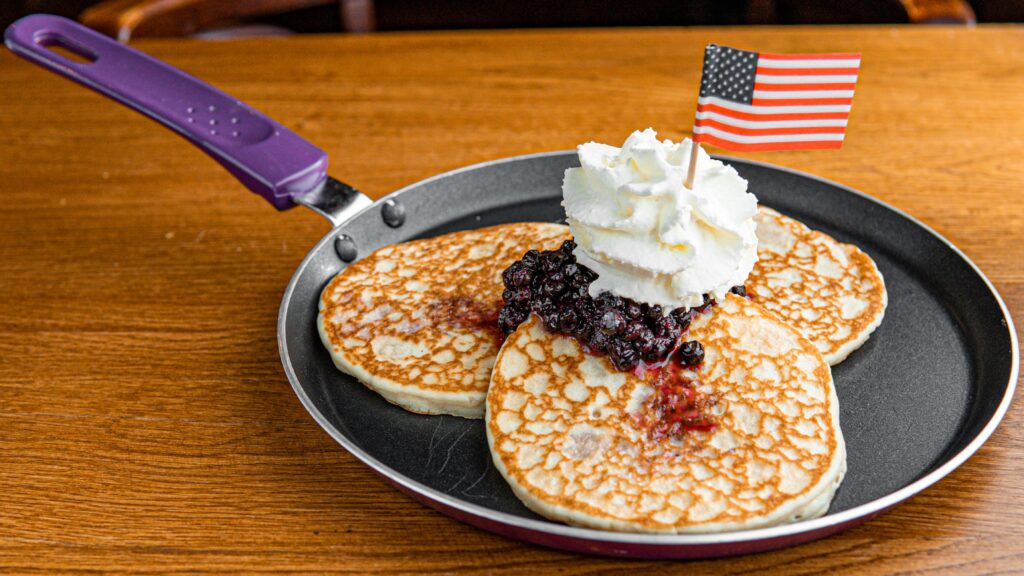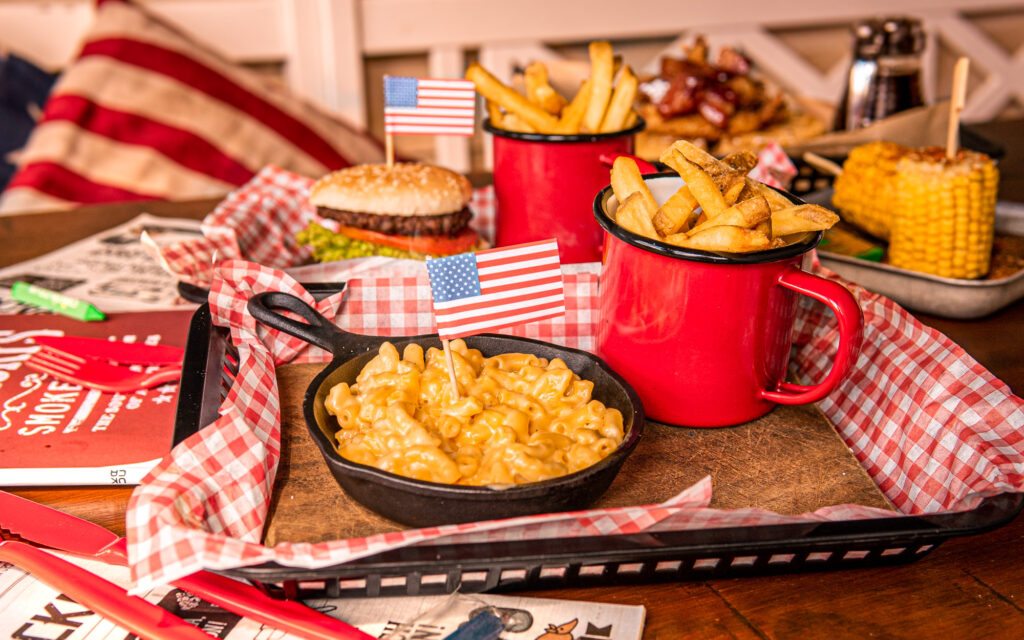 Smaller Portions for Very Important Kids!
FRO-CO CREATION STATION!
Now we're talkin'! Our Fro-Co Creation Stations stand proudly in all of our restaurants, showcasing our famous frozen custard (that's Fro-Co in Hickory's talk).
Kids receive sweet swirls of Fro-Co and can either enjoy a house combo or build their own crazy creations! It really is a whole lotta' fun & don't worry, we do let well-behaved adults enjoy it too.
---
FUN & GAMES
CINEMA ROOMS!
All of our restaurants are kitted out with their very own cinema rooms & we treat little ones to the power of popcorn & blockbuster films at their fingertips. Kids need simply to grab a bag of our hot n' fresh popcorn, cosy up in the front row and enjoy silver screen scenes for as long as they like! Genius, right?

Kids enjoying quiet time in the cinema room gives adults the time to savour a well-deserved moment of peace whilst feastin' on our authentic BBQ food. Thank us later
SAFE OUTDOOR AREAS FOR KIDS TO PLAY!
All our yards and gardens are unique so we aren't able to offer the same games and activities at every restaurant*, but we'll be sure to keep the little ones entertained in other ways.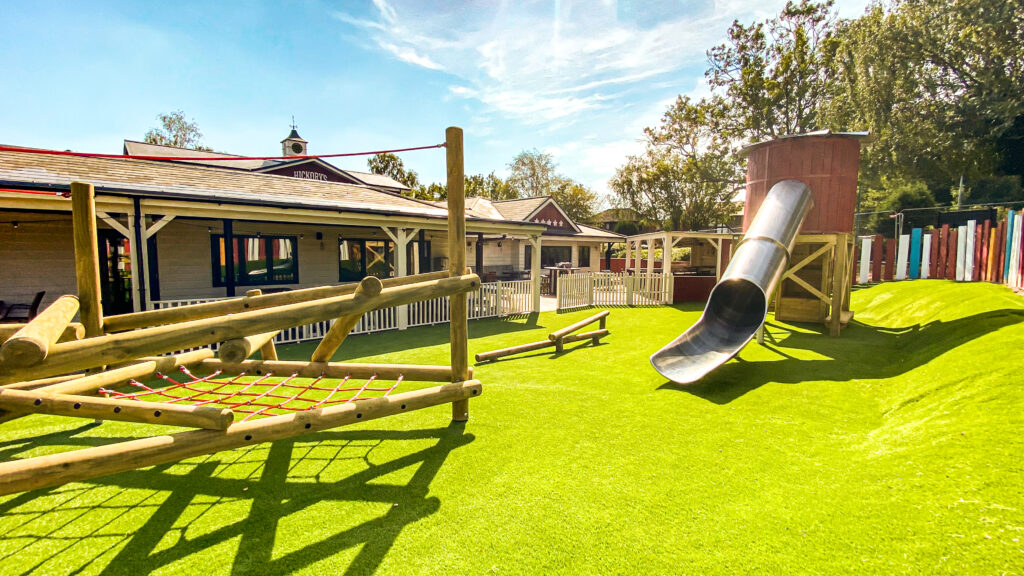 This is our Nuthall Garden complete with playframe, slide & outside dining area! We have gardens with beautiful lawn areas in Burton Green, Castle Bromwich & Southport. Rhos boasts its very own fun slide, there's a tree house nestled in the corner of Gresty Green's garden, Poynton has a train for younger children, Wall Heath, West Kirby, Hutton & Wilmslow have a secure backyard & 'Ole Smokey play boat takes pride of place in Worcester. In our Horbury restaurant the tree house is the place for kids.
Our Chester restaurant sits on the banks of the River Dee and although it has it's own walled garden to dine in, your little ones will have lots of fun in the cinema room, and there's plenty to do after dining on the river and in nearby Grosvenor Park.
At our Shrewsbury restaurant, the little ones can watch the river boats pass by on the veranda or enjoy a movie or two in the cinema room.
Yard GAMES!
In the summer months we'll have Giant Jenga, Ping Pong, Football tables & more available to use in our outdoor areas!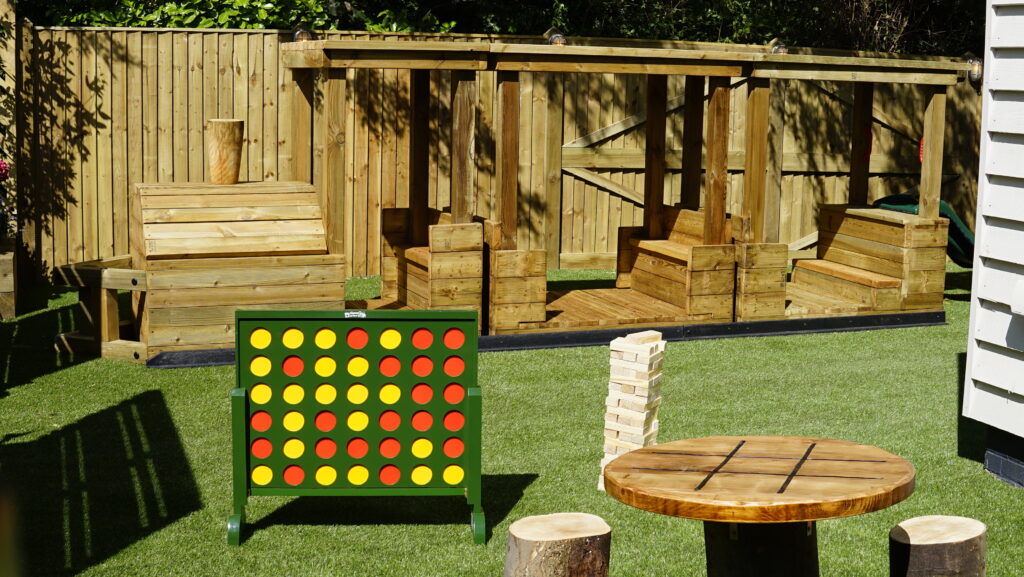 TABLE TOP ACTIVITIES
Every child welcomed into any restaurant will be given their very own kids pack & crayons with lots of activities to complete. They may even learn a few things about the southern states too!
---
CHARACTER BREAKFASTS
A chance for kids to have a magical breakfast in the company of their favourite fairy-tale Princess or Superhero Characters! With fun, games, singing, dancing and of-course a delicious brunch! Keep an eye on our socials for upcoming dates!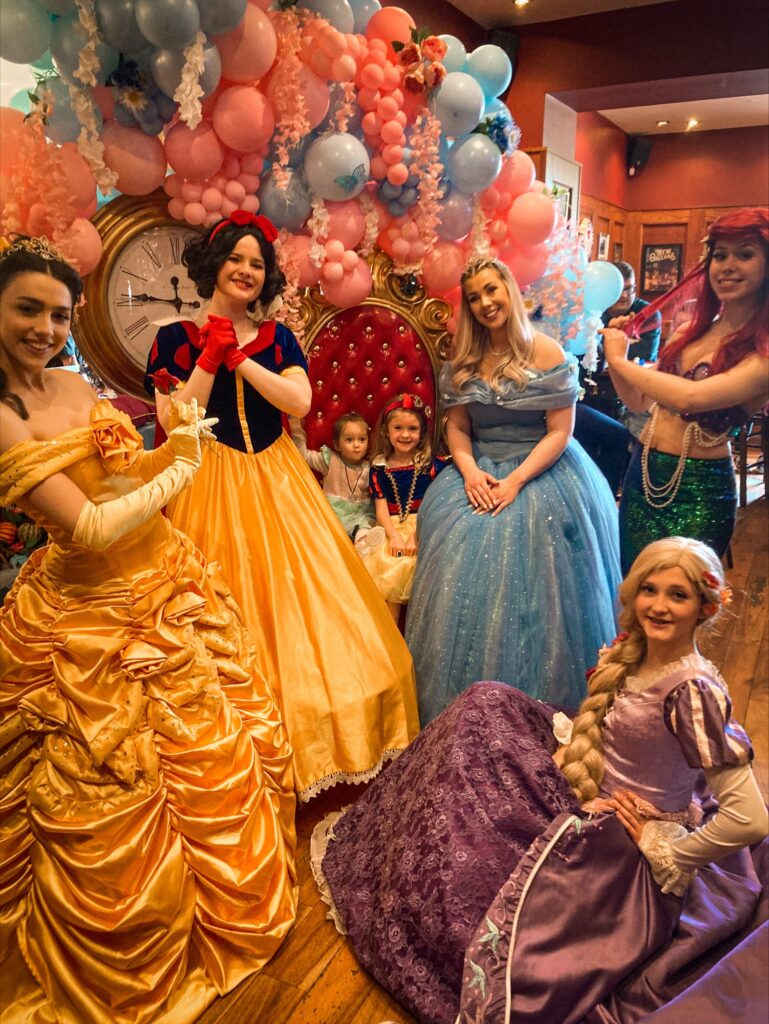 ---
WHAT'S ON
We like to keep things busy and offer a range of special events throughout the year. To see all of the upcoming events at your local Hickory's, simply click here. We hope to welcome you & your VIK'S soon!
---