The River Dee Raft Race
Following on from our Hickory Dickory Dock Blog...
On Sunday 6th July we saw Chester host the 39th annual charity raft race, with just under 40 rafts taking part. The sun was beaming and the river sides were full with spectators ready to cheer on their teams.
Each team entered fully expecting to get a little wet but what met them that day had spectators in fits of laughter. There was a fly boarder on the river with water shoots on each arm - very handy for soaking the rafts!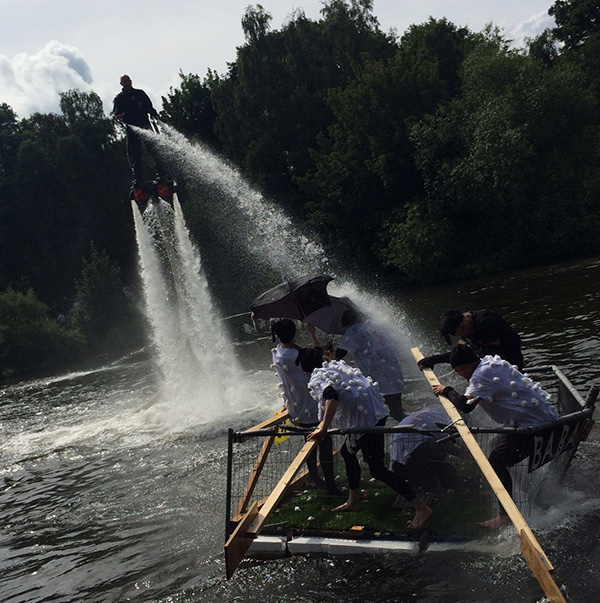 Hickory Dickory Dock had a little competition of our own by going head to head with Baa Baa Lounge. Both teams started off well but Hickory's quickly took the lead leaving their rivals falling far behind. Hickory's team was a mix of 3 females and 3 males.. our team of rowing gents took well to the eggs, flour, bread, sweets and lots more being thrown from the river side, the screams of the girls on the other hand could be heard all the way over in Handbridge and for some reason all three girls turned up to row the river with beautifully blow dried hair and faces full of make up - needless to say they attempted to remain covered by hiding underneath a rain coat!! A little word with our man with jets on his arms soon sorted that out - hehe! No rain coat in the world would keep you dry from that.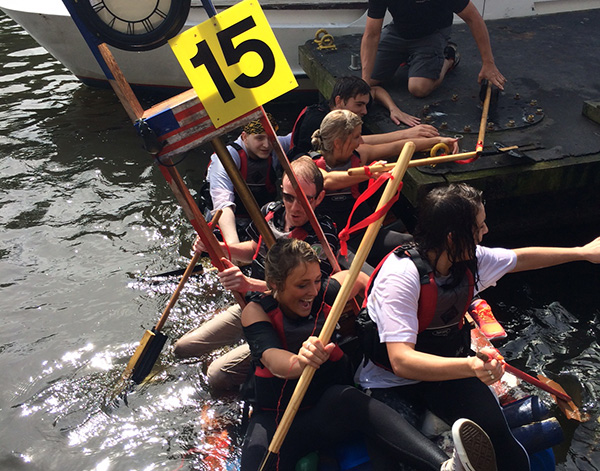 Hickory's had crossed the finish line (soaked to the bone) before Barlounge had even come into sight and they were rewarded with ice cold drinks and a team date at Hickory's later that evening (after a few showers... wash away the river). Barlounge had the tiresome job of breaking down both rafts and returning to Watergate street defeated!!
Well done teams, you both did brilliantly and certainly provided us with plenty of entertainment (especially Mellissa & Becky our blow dry beauty queens) .
A special thanks to Philippa Robson who organised the day for both Barlounge and Hickory's!