On The Craft Beer Trail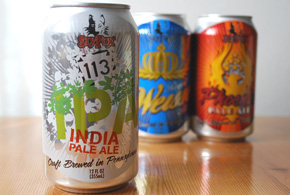 There has been a distinct boom recently both on this side of the Atlantic and 'across the pond', of something myself, my friends and my colleagues have always had a staple interest in... Beer.
The term 'craft beer' has been appearing everywhere, in the media and in bars and restaurants around the country. We started serving Brooklyn on draught at Hickorys almost 4 years ago. We were one of the first venues in the country to do so, and this was my first experience of an American craft beer. All of a sudden my choice for a hopped beverage was not simple – previously my options had been lager, bitter or stout. Now I was faced with a dilemma over whether I wanted a lager, ale, dry hopped, IPA, porter, rye, barrel aged barley, and even whether to have bacon, pumpkin or peanut butter in my beer. I had a lot to learn.
Craft beer is small batch, bespoke, made by passionate individuals, think of it as professional home brewing if you will, without any mass market production and compromise on quality. In fact, one thing the craft market is pushing towards is a wave of canned beers. Our initial scepticism of the product was dispelled when we realised that canned craft beer has some distinct benefits;
No damage from sunlight that would degrade the hops and make the beer lose its flavour.
100% seal on the product, giving an enhanced shelf life or 'freshness'.
All cans now coated to prevent the beer from touching the metal can – no metallic flavour.
Easier and more environmentally friendly to transport and store.
The beer tastes better, its fresher and... they look really cool.
With this new information to hand we recently went on a 'research trip' to see if we could find the right new craft beers to add to our drinks list at Hickorys. We tasted, debated and deliberated... The results? Some of the less fortunate beers grace our top shelves today in the form of decorative empty bottles or cans.
The winners? Well... Keep your eyes on our fridges and watch this space!!