Hickory Dickory Dock vs Baa Baa Lounge…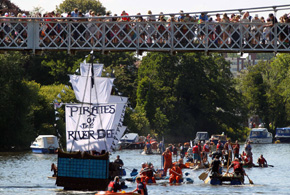 This Sunday the 6th July will see Hickory's Smokehouse paddle it out on The River Dee in Chester's annual Charity Raft Race!

Many local companies will be taking part but we have a little competition of our own. Hickory's will be going head to head with Watergate Street cocktails stirrers... Barlounge!! Watch out the big BL - this means war!
Teams have been selected carefully by their Captains! Kris will take the helm of Hickory's with Conor for Barlounge - the pressure is on teams!
The raft race theme this year is nursery rhymes and limericks - Hickory's has taken on the name "Hickory Dickory Dock" and Barlounge have adopted the name "Baa Baa lounge"... Who will you be backing??
The two teams each have six on a raft and have worked to a £50 fixtures and fitting budget to tart up the look…
Watch this space for results or pop down to the River this Sunday morning - sure to be messy, wet and entertaining!