Can you handle…The Smokehouse Platter?
Perfect for two. Impossible for one!
Whatever your reason, our epic Smokehouse Platter never fails to deliver a mouth-watering, authentic smokehouse experience.
Piled high with our most popular BBQ favourites, the platter is a meat lovers paradise designed to take your taste buds on a trip through some of the deep South's most popular BBQ styles.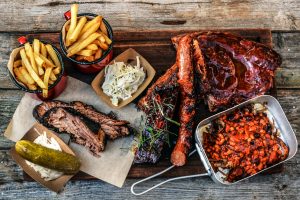 From juicy Texas style brisket to our barbecue pulled pork; classic Memphis style dry rubbed ribs and their Kansas style cousins dripping in BBQ glaze - it epitomises the true taste of the Southern states.
Thick cut pork belly ribs, a Hickory slow smoked beef sausage, house fries, slaw and pickles complete the feast which is a delicious challenge for one and even better to share.
TOP TIP: If the 'meat defeats' ask your server to package up the left-overs and enjoy your delicious doggie-bag back at home. It's a win win!