Blakeley Heath Primary School visit Hickory's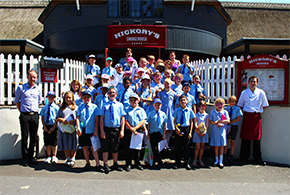 Hickory's VIK School Visit
Last week we were very excited to host our very first Authentic American Educational Experience in Hickory's Wall heath.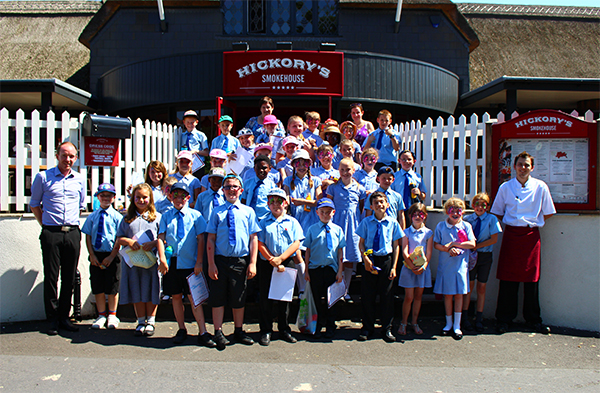 Although it's been quite a long...long time since our General Manager Kris Perrin was in school he volunteered to play the part of 'Principle' for the 42 young students from a local primary school. The class had been studying America as one of their topics this year, so we thought we'd give them the opportunity to not only learn a little more but to discover the great tastes of some of our favorite Deep South flavours.
Themed activities were hosted throughout the day to encourage the Southern spirit. We even let the students into our special top secret recipe for a tasty homemade lemonade…this went down a treat – especially on the hottest day of the year!
Chef Dan gave the children a tour of our authentic southern style smokers, where they were able to see just how the traditional food of the southern states is prepared!
Next stop lunch… The children's chance to sample a few of the most loved dishes of the southern states including our famous pulled pork and the most tender of our burnt ends.
As the children tucked into our very own frozen custard for dessert; we began the much anticipated quiz! They were questioned on 8 of the facts they had been told throughout the day- with 3 great prizes up for grabs the pressure was on…
2pm seemed to come round just too quickly as we waved a bus full of children back to school! Principle Kris did not have to give out any detentions, as the Year 5 Class from Blakeley Heath Primary were nothing but a pleasure to have.
I think it is safe to say a great day was had by all!